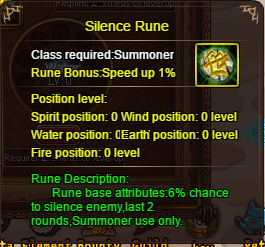 hehe Now this is the impression of telling someone to shut UP, quite effective to Enemy Users who cant be stunned. and Cant stop Healing or Giving you Heavy Dmg. This Rune Allows the User to Forbid Magic Casting to the Enemy User. so they suffer normal attacking.
Class Required: Summoner Chapter 1 of Edolas
Rune Bonus: Speed UP by 1% !!
| | |
| --- | --- |
| Rune Level: | Rune Effect: |
| Level 0 | 6% to Silence Enemy Last 2 Turns |
| Level 1 | 11% to Silence Enemy Lasts 2 Turns |
| Level 2 | 16% to Silence Enemy Last 2 Turns |
| Level 3 | 21% to Silence Enemy last 2 Turns |
| Level 4 | 26% to Silence Enemy Last 2 Turns |
| Level 5 (Max) | 31% to Silence Enemy Lasts 2 Turns |