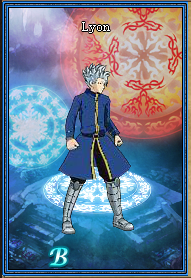 Lyon Vastia (リオン・バスティア Rion Basutia) is an Ice-Make Mage of Lamia Scale and its current ace. He is also the rival of Gray Fullbuster, and was first introduced as Reitei Lyon. Lyon served as the main antagonist to Team Natsu during the Galuna Island incident.[1]
About Lyon
Edit
B rank mage
He can only reach rank B.
Obtained in The INN for 200 blue vouchers
Elemental wizard
Base Stat
Edit
Magic Power:65
Spirit:65
Dexterity:93
Attack power:97
Defence:65
Speed:9
Dodge:93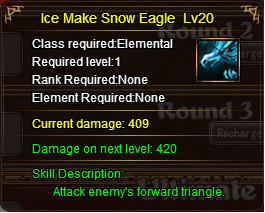 he is elemental class so the other attack would be buy at the Magic Crystal Shop.
Reference
Edit
Ad blocker interference detected!
Wikia is a free-to-use site that makes money from advertising. We have a modified experience for viewers using ad blockers

Wikia is not accessible if you've made further modifications. Remove the custom ad blocker rule(s) and the page will load as expected.