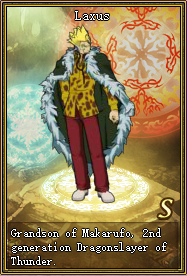 Laxus Dreyar is an S-Class Mage of the Fairy Tail Guild, He use Lightning Dragon Slayer Magic. He is the grandson of Fairy Tail's Guild Master, Makarov Dreyar, and the son of Raven Tail's Master, Ivan Dreyar. After Fairy Tail's disbandment, he joined the Blue Pegasus Guild along with the members of the Thunder God Tribe.However, after the guilds reformation, he later left to join Fairy Tail again along with the team.[1]
About Laxus
Edit
S rank mage
He can reach rank S
Obtained in the Famous Mage Ranking for 98 Laxus's Headphone
Dragon Slayer wizard
Base Stat
Edit
Magic Power:517
Spirit:382
Dexterity:386
Attack power:1034
Defence:387
Speed:38
Dodge:193
He is Dragon Slayer class so the other attack would be buy at the Magic Crystal Shop.
Skill Description: Attack all enemies, there is 25% rate to double attack enemy.
Reference
Edit