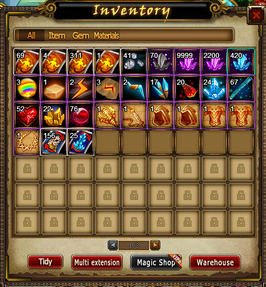 Inventory interface is the place where you will find all your items.
the inventory has 27 spaces for items, and can be expandable until 189 spaces, there are 63 spaces for each page, and there are 3 pages.
the only way to expand is by paying gold, and it cost a lot.
in the area below are four buttoms
Tidy: it will organize your items
Multi extension: to buy all spaces left in the line
Magic Shop: (only for vip 6)
Warehouse: its a place to save more items.
in the warehouse are 33 spaces for items, and can be expandable until 99 spaces